In the realm of comic book and graphic novel writing, Amanda Deibert has made a name for herself as a prolific author, screenwriter, and creative force. As an recent fan of her work, I had the incredible opportunity to meet Amanda at Ontario Revolution Comic Con.
Amanda Deibert's writing journey has taken her through a myriad of projects and platforms. Alongside her wife, Cat Briggs, Amanda began her creative ventures with an online comic. Since then, she has contributed to a wide range of notable works. Her impressive comic book writing portfolio includes multiple DC Super Hero Girls graphic novels, a story in the New York Times #1 Bestseller Love is Love, Flash Facts, Teen Titans Go!, Wonder Woman '77, and many more. Additionally, Amanda has showcased her talents in television writing for acclaimed shows like He-Man and The Masters Of The Universe for Netflix. Amanda also just released a book titled, You Already Have the Answers: 365 Questions to Reveal Your Greatest Strengths. She is currently writing the Darkwing Duck comic series published by Dynamite Comics.
Growing up watching Disney Afternoon as a kid, Amanda developed a connection to Darkwing Duck and other characters in its universe. When the opportunity arose to write for the new Darkwing Duck comic, she eagerly embraced it. To capture the essence of the beloved character, Amanda immersed herself in the world of Darkwing Duck by rewatching the original episodes. She also drew inspiration from the new DuckTales 2017 show, incorporating Mayor Owlson as a character in her comics. Amanda's attention to detail even extends to hiding easter eggs in her work, delighting fans with hidden surprises to discover.
Amanda's passion for bringing Darkwing Duck to a new generation is evident in her approach to the comic. She wanted to move the time frame of the story from the 1990s to the present, inspired by the success of DuckTales 2017 in introducing the beloved characters to a new audience. By contemporizing Darkwing Duck, Amanda hopes to capture the hearts of both longtime fans and new readers, allowing the heroic crimefighter to shine once again.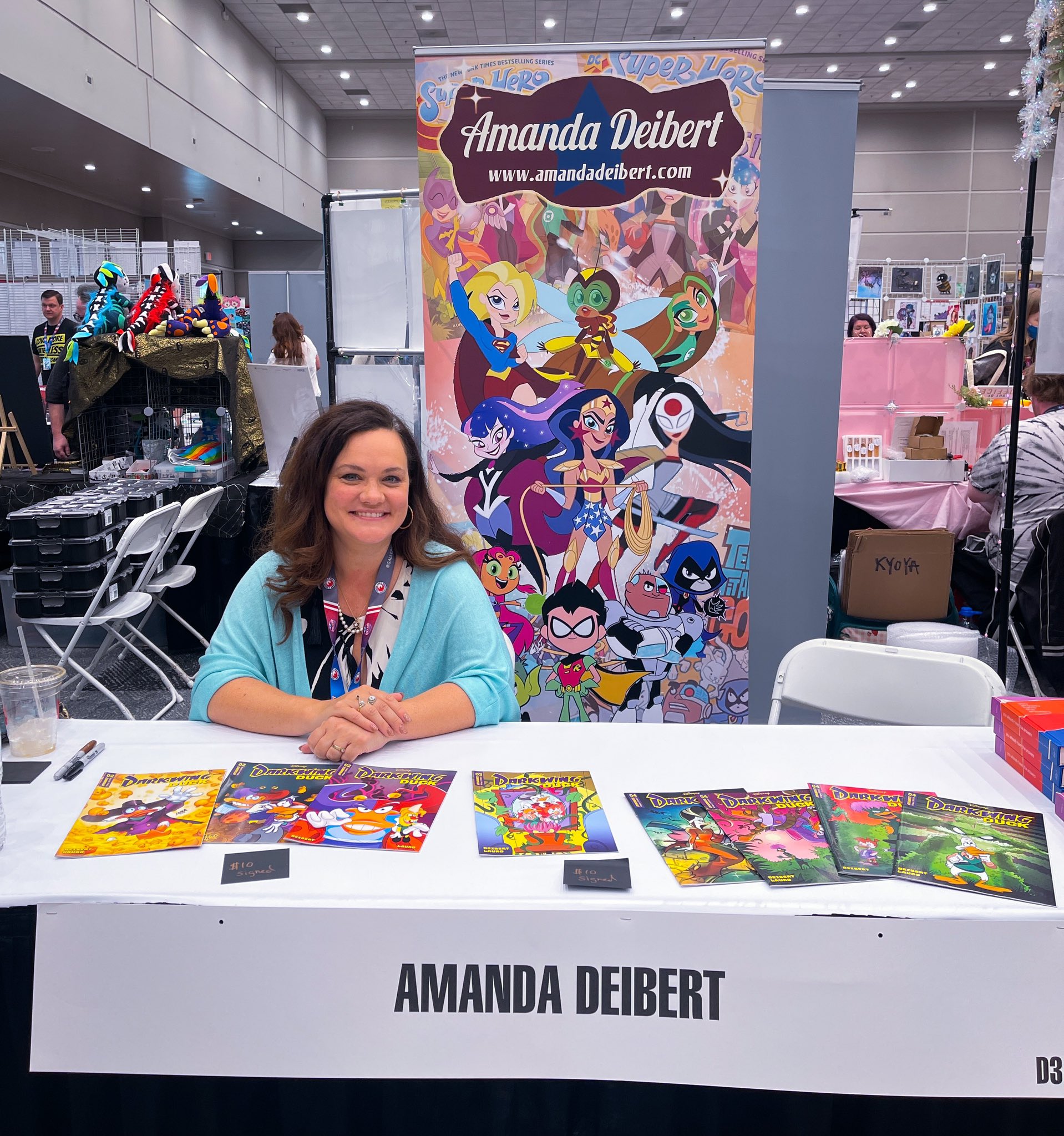 During our conversation, Amanda revealed that the Darkwing Duck comic has recently been extended from its initial six-issue run to a remarkable twelve-issue run. She expressed her excitement at the prospect of continuing the story and shared her willingness to explore further adventures if Dynamite Comics decides to extend the series. Fans can anticipate more thrilling tales from the world of Darkwing Duck.
As a fan of Amanda's work on the Darkwing Duck comic, I brought along my copies for her to sign. Amanda graciously took the time to sign each one, creating a lasting memory for me. We discussed the comic in detail, sharing our mutual appreciation for the character and the joy he brings to readers.
In conclusion, meeting Amanda Deibert was a true delight. Her passion for storytelling, deep connection to Darkwing Duck, and dedication to engaging readers through her writing were evident throughout our conversation. I left the encounter with a renewed appreciation for her work and a strong desire to continue following her creative journey. I want to extend a heartfelt thank you to Amanda Deibert for her time and for signing my treasured Darkwing Duck comics. Meeting her was an unforgettable experience that deepened my admiration for her work.
If Amanda happens to be reading this, I wanted to extend an offer to have her as a guest on our podcast. We would love to dive into her creative process and ask her about the many questions we have about he Darkwing Duck comic. I know for sure I want to know if Gosalyn will ever get her cell phone and if the first podcast she listens to is DuckTalks.
Thank you, Amanda Deibert, for your contributions to the world of comics and for inspiring fans like myself. Your creativity, passion, and love for Darkwing Duck continue to enrich the lives of readers everywhere.
I highly recommend meeting Amanda Deibert at a convention near you if she is in attendance.