We are less than a week away from new episodes of DuckTales! As we near the end of the post-season one hiatus news continues to surface about season Two.
Along with some news, we are also beginning to see more interaction with fans from Frank Angones, Co-Producer of the show. There are a number of responses on Tumblr and on Twitter. Let's take a look at a few.
Twenty-five episodes in Season Two! Yes, please! We were excited when we found out Season One would be a full season of 23 episodes as opposed to a shorter 13 episode season. Of course, we also found out early on that Season Two was green-lit before Season One even aired. Frank Angones just confirmed on Twitter that the season premiere will not be a 44 minute episode. Season One was 23 episodes, but it began and ended with 44 minute episodes. Congrats to everyone involved in the show.
Good news! Glomgold confirmed for Season Two! Not that we have actually questioned whether or not Glomgold would return in Season Two. Of all of the villains we were introduced to in Season One we probably saw more of Glomgold than any other… And for good reason, Glomgold was one of our favorites characters for the season. We do have questions in regards to the female character who was seen in the slides at SDCC this year. She was identified as being in charge at Glomgold Industries … so it will be interesting to see what story leads to someone else in charge. Oh! And of course there were the images of young Golmgold.
Just in case you were wondering if we would see more of Gyro's creations causing problems in Season Two.. no need. Gyro was adored by fans from both the original show and comics, and in the new show he surprised many with his new design. For us, Gyro was one of the welcomed changes to the cast. I love the misunderstood "evil" scientist Gyro that we had in Season One, and I can't wait to see more of his creations causing chaos.
We were expecting a little more Donald in Season One, but his pivotal role in the finale more than made up for his absence from many of the adventures. It was great seeing Donald as the caring parent in Season One, and we can't wait to see more of it in Season Two. It will be great to get more of "Good Dad Donald."
We've been wondering this question as well. We have been leaning toward the answer that she knows that Donald would have taken very good care of her kids, and that she is assuming they are hers. We look forward to hearing Frank speak more about anything DuckTales related in the future!
We've already expressed our love of all things Glomgold (both here and on the podcast), but we loved all of the villains in Season One (yes, even Doofus). We've seen some complaints that the villains were not very menacing or concerning in Season One. It sounds like that was by design, and we couldn't be happier. There were definitely instances where the situation seemed dire, but for the most part the villains were there for gags.
Magica De Spell was the right amount of menacing and funny. Catherine Tate did an amazing job with the character, and we looked forward to each and every one of her scenes. We can't wait to see and hear more from her!
As far as show openings go OG DuckTales is one of the greatest. The music and animation prepares the viewers for a fun and adventurous time. The same is true with the new show's opening, and some of us may prefer the new show (don't judge). The new opening has the same catchy toon, but the song has been updated and we believe Felicia Barton knocked it out of the park. It would be a surprise if we see too much of a change, but not if they added a few new scenes.
This question was asked as soon as Della reacted to the broadcast from Duckburg. It raises other questions as to where Della has been and how much of the boy's lives she may have been witness to. As for us, we believe cold deduction was used by Della. Her maternal instincts may have played a part. She saw Scrooge and Donald standing with three kids the age of her own. Whether she knew her eggs would hatch to be boys before she left for space or not, it wouldn't be a stretch to assume they were her kids.
One of the joys of Season One was pouring over the clues on Webby's board. It is surprising that there are things on the board that we haven't discussed before. Maybe it's time we revisited the board.
Wait, what?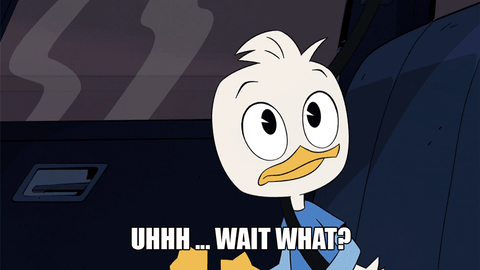 Join the conversation below in the comments or on Twitter @DuckTalks!